The same as most other blokes, I've been a bit of a petrolhead since I was a little boy. Throughout my adult life a chunk of my disposable income has ended up going on cars. In chronological order my history is as follows;
Mini City 998cc – Had no carpets and you could see tarmac through the floorpan. Taught me how to change a head gasket though and the joys of the A series engine.
Renault Clio 1.8 16v – This one was a proper love / hate relationship. To be fair, I abused her and she abused my wallet. I consistently pushed it too hard and ended up blowing another head gasket. Assuming it couldn't be much harder than the A Series I set to it with my brother. Due to the joys of Renault engineering and an engine too small for the bay we had to winch it out just to get the timing belt cover off!
Skoda Favorit 1.3 glx – This thing was a beast. Having cost £275 from an old couple near Bury St Edmonds, it just kept going. I lost the radiator cap… It didn't care. It chugged along just a little warmer but no water in. Someone tried stealing it (twice)… It didn't care. The lock on the steering column held firm and the steering wheel just bent. Handled like a boat and probably the scariest car I've had. Also the one I'm most nostalgic about though.
Skoda Fabia 1.9 TDI – This one was another workhorse. A £900 hand me down from my brother, it had been well maintained. This was the most luxurious interior I'd ever had in a car to this point. The diesel torque was pretty good on the motorway too.
Audi TT 225bhp – Compared to the rest, this felt like a rocket ship at the time. It's hard to pick many faults with it as a day to day car. Really quite a nice interior and a surprisingly large boot. That big single turbo was brilliant too. The only quibble is the sluggish handling and it was a bit unsteady at speed.
Porsche 996 Turbo – This… Has been my baby for the past 18 months. I've never driven anything quite like it. The speed just keeps coming and the grip / handling are immense. The thing I'm missing most though, is cleaning and polishing it.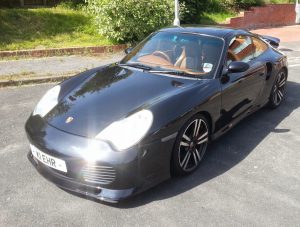 As I've gone through these cars I've been less and less inclined to work on them, for fear of making an expensive mistake (or leaving myself off the road). We now have a budding family though (8yr old daughter and 1yr old son), we've finished renovating downstairs in the house , I commute by pushbike & train and we own a 1.6 Ford Focus.
It's time to do what I've wanted to for a number of years. Build and enjoy a kit car!
Over the coming months (and possibly years) I intend to keep a record of the challenges, joys and pitfalls of building my own SR2 RoadRunner. I've put the deposit down on a kit a couple of days ago. Before getting down to it, I'll put together a few posts on
What made me choose a SR2 RoadRunner specifically
Sourcing the donor car
Getting ready to build
Stripping down the donor
Some of the jobs I mentioned above (head gasket) and a few services are about as sophisticated as I've ever gotten. This means that even stripping down the donor car will be a challenge
Should be fun!! 🙂