As I've said in a previous post, one appeal of building an SR2 Roadrunner is the fact that it uses an MX5 donor. These are currently abundant in the UK, plentiful under £1,000 and by all accounts a decent car in their own right.
So… How do I get the right one?
Which type of MX5 do I want / need?
Taking it one version at a time:
Mark 1 (NA) – Ran from 1989 to 1997 and stands out with it's combination of stubby nose & pop-up headlights. These were available in 1.6L or 1.8L with a 5 speed manual box. It's also possible to find imports with an optional LSD (Viscous LSD on the 1.6L and Torsen LSD on the 1.8L). Having looked around at a few, it's possible to find a cheap mk1 that has been much loved with a number of uprated parts e.g. turbo! 😀
Mark 2 (NB) – Was available from 1998 to 2005. There are still quite a few of the older ones available for under £1k. The NB was offered with either a 1.6L or 1.8L engine and LSD on some imports much the same as the NA. This was a new iteration on the engines, but I won't go into details as I don't understand the ins and outs yet 🙂 Some additions to the UK NB were an optional 6 speed box and / or LSD. I struggled to find clear information on if these were offered as straight forward options. A guaranteed way to get a Torsen LSD though is to find a "1.8i S" rather than the standard "1.8i". This difference in model shows in the log book if you're unsure
Mark 3 (NC) – Has been available from 2005 to the present day. These have been outside the price range in which I've been hunting for a donor, so I've looked into them very little. I guess it'd be possible to source one if you looked for a Cat D/C/B salvage but I have no way to transport something like this.
Where do I find it?
My method for searching was pretty simple. I set-up email alerts on the following;
Anyone else have a suggestion for other places to hunt?
What am I looking for when I buy it?
The following was the checklist I was working to. I don't claim it to be comprehensive as I'm far from an expert;
Ask the guy to tell you the story of the car. How long has he had it? What's he had done? What does it need doing? Why is he selling?
What are the panel gaps like? Has it had a bump?
Can you feel a lip on the brake discs?
How much tread is on the tires?
Are there any signs of leaks in the engine bay? Or from underneath?
Is the engine warm? i.e. did he warm it up in advance?
What is the oil level like? i.e. does he look after it
Is there any mayonnaise under the oil cap?
Get him to start it while you watch the exhaust. Watch out for blue smoke
Does the cam-belt shimmy?
Do all the lights work as they should? (don't want to get stopped on the way home)
Test Drive – Assuming you're not driving, get him to let you shift through some of the more common gear changes. Do they feel nice and smooth?
Test Drive – Listen listen listen…
Log Book – Is it really a "1.8i s"?
Service History – How much money has been spent on it in the past couple of years? What was the work?
If you want something a little more thorough then here is a good guide on pistonheads http://www.pistonheads.com/gAssing/topic.asp?h=0&t=803271&mid=0&nmt=Common+MX5+Faults+%2F+Buying+Guide.
To be honest though, I was looking for "good enough"… At the right price… And near enough to home that it's practical.
What did you end up getting?
So… After looking around for a month or two, I found a 1.8i S NB in Edgeware for £750. This was a 2 hour train journey for me the day before New Year's Eve (my wife refused to drive on the motorway to take me to buy a banger she didn't want around). With this much of a round trip I was crossing my fingers it was good enough to buy!
From the advert it sounded work a punt. It had 116k miles with a recent timing belt change, only 3 owners, new rear tires and rotting bodywork. One guy had owned it for most of its life and maintained it well. The most recent owner was selling up to move up to Manchester with his girlfriend.
Inside the engine bay had no sign of leaks or a mess, brake disks weren't pitted and the tires turned out to be good all round. The only off-putting thing was a rotten heat shield at the bottom of the manifold rattling around and making it hard to listen out for anything else.
I ended up paying him asking price (as it was priced fairly in the first place) and have enjoyed driving it around for the past few weeks. All I've done since is give it a good clean (my daughter washed her hands after getting out of it for the first time), changed the coolant / oil and removed that rattly heat-shield.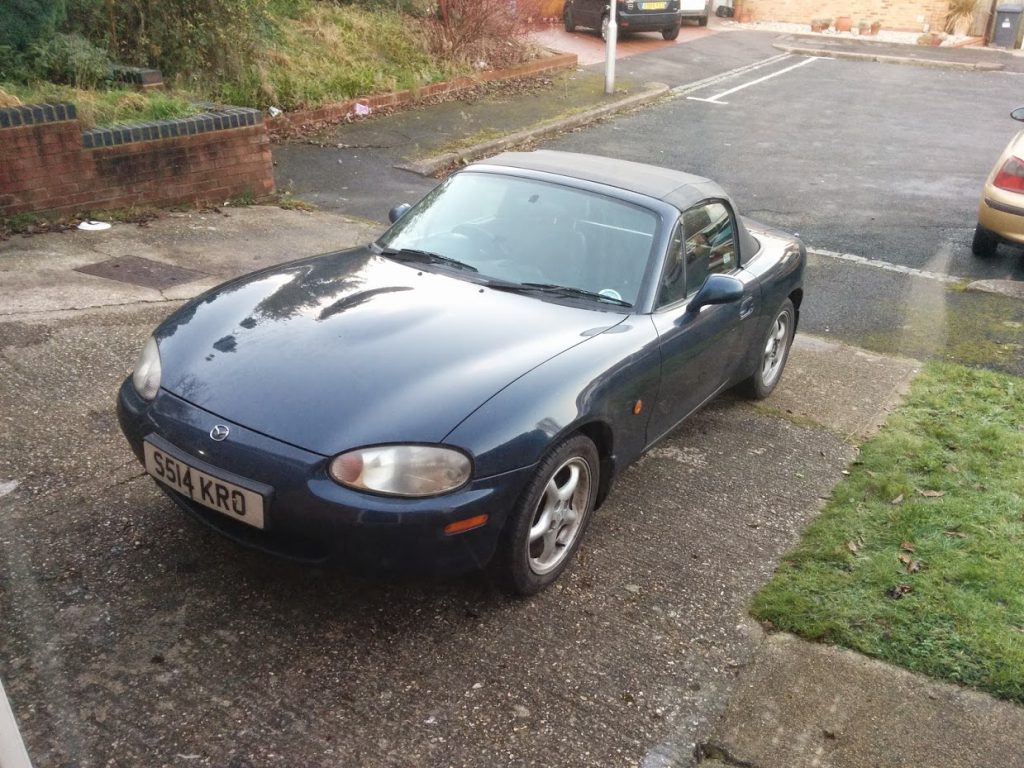 Next thing to do is secure the garage properly and clean it up a little before cancelling the insurance and getting to work on stripping the donor!